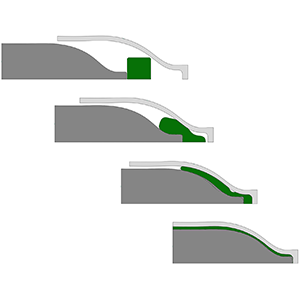 Abaqus Tutorial 16:
CEL, molding of a polymetric bottle
In this tutorial, you will setup a Coupled Eulerian-Lagrangian (CEL) model of the molding process of a polymeric bottle.

When you complete this tutorial, you will be able to:
Define a CEL model within Abaqus/CAE.
Use the Volume Fraction Tool to identify which part of the Eulerian region initially contains the material.
Learn how to post-process and visualize results from CEL analyses.
Get your FREE Abaqus tutorial now!
Request your FREE tutorial