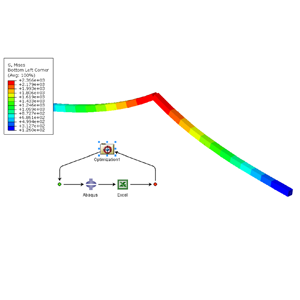 Isight Tutorial 4: Isight optimization, Abaqus scripting and Microsoft Excel integration
In this tutorial, you will combine Abaqus and Microsoft Excel within an optimization Isight workflow. Also, you will write (or copy) a user defined python script to retrieve from the Abaqus .odb file new customized output variables which are not directly calculated by Abaqus.
When you complete this SIMULIA Isight tutorial, you will be able to:
Include a Microsoft Excel component.
Use a post-processing script within the Abaqus component which calculates user-defined parameters.
Get your FREE Isight tutorial now!
Request your FREE tutorial